Our photographer has put together a little photo series where you can see how it looked like at Lankwitzer Str. 42 before we began constructing the new Quälgeist. And what we made of it until now:
The entrance, Still original: the handrails.
The bar. Still original: The radiators.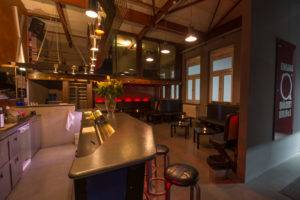 The non-smoking lounge (besides the bar).
The smoker's lounge (built completely new as a second storey above the non-smoking lounge).

The entrance to the play area (not exactly the same view perspective).